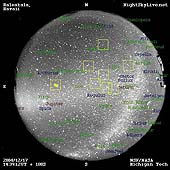 ハワイの火山山頂の全方位カメラの撮影した閃光
■ The Asterisk* :: View topic - Which satellite is this?
[The Night Sky Live Project Bulletin Board]
http://bb.nightskylive.net/asterisk/viewtopic.php?t=291
↑この閃光の不可解な観測について語る公式掲示板スレッド。
このスレのみ閲覧者数が激増。(他は見る価値が無いとも言える)
Posted:Mon Dec 20, 2004 4:46 am
ID:guestの投稿。
「本当に奇妙な事は、この物体がマウナケアで30分近く、
ハレアカラでたっぷり55分間、見えていたと言う事だ。
通常人工衛星は、全空を横断するのに数十秒、あるいは
最大でも2-3分を要する程度。
仮にこの物体が衛星である場合、それは非常に遅い移動速度
であるか、もしくは超高高度に存在したかのどちらかだ。

■ Heavens-Above
http://heavens-above.com/
(ネット上での衛星軌道確認サイト)
で、私は、あらゆる可能性をチェックしたが、この観測報告に
適合する衛星の通過事例は存在しなかった。さらに、
隕石である可能性も無い。」
この内容が、以下のニュース記事で引用されてUP。
■ UFO over Hawaii puzzles astronomers
http://worldnetdaily.com/news/article.asp?ARTICLE_ID=42767
[WorldNetDaily]
Posted: February 8, 2005
3:30 p.m. Eastern
Mysterious streak captured by camera positioned on active volcano
WorldNetDaily 記事全文
© 2005 WorldNetDaily.com
An unidentified streak moving through the night sky above Hawaii has sky watchers puzzled.
The streak, which can be viewed in motion on a NASA website page, was captured on film by a camera positioned on a volcano in Haleakala, Hawaii. It moves from southeast to northwest.
According to the NASA site, the streak was spotted on the night of Dec. 17. Another camera trained on the night sky in Hawaii, in Mauna Kea, also captured the image.
While the streak may have been disregarded as a satellite, NASA says no record of a satellite in that position exists on a website that documents bright satellite events.
NASA includes an online discussion board for people to speculate about what the streak might have been.
One poster wrote: "What is truly bizarre is that this object is visible for a good 55 minutes at Haleakala and close to 30 minutes at Mauna Kea. Usually, satellites take a few dozen seconds or, at the most, a couple of minutes to cross the entire sky.
"If this object is a satellite, it is either very slow moving or at a very high altitude. I checked all the possibilities at Heavens-Above and no satellite passes seem to fit this observation. It is also impossible to be a meteorite."
■ Astronomy Picture of the Day :
2005 February 8
[ A Mysterious Streak Above Hawaii ]
http://antwrp.gsfc.nasa.gov/apod/ap050208.html